Happy New Year's Eve my darlin's!
One of the best parts of this time of year is getting to reflect back on the year behind us: the good, the bad, and everything in between. Part of that for book lovers like me is, of course, looking back at the books we've read and picking out the top ones, just for fun and to give recommendations to others. I love browsing TikTok, Instagram, and blogs around this time to see what everyone else has read and loved (or hated) and either join in on the shared love of a common read, or add new books to my ever-growing TBR list.
Without any further ado, my top nine reads of 2021:
9. The Raven Boys by Maggie Steifvater
Coming in at #9 is The Raven Boys by Maggie Stiefvater. I had been meaning to read this book for years, since probably my freshman or sophomore year of high school. For some reason, I just never got around to picking it up, but this fall I decided to start the audiobook as something to listen to as I commuted around campus by foot. And I'm so glad I did — I was immediately sucked in.
It definitely felt like the YA book that it is, so I must say that's probably why it sits at the bottom of this list; if I had read it when I was sixteen, I could definitely see it having been one of my favorite books ever. Unfortunately at 21 I didn't relate to it as much as I might once have, and have also forayed into more adult novels and so the simplicity of early-2000s YA literature felt a little lacking in depth. However, I think that was part of the fun of this read — it was fun and easy but also enthralling and compelling, a book in which I couldn't wait to see what happened next. I ended up downloading the ebook so I could consume it even faster.
Hopefully I'll pick up the next in this series this year, though I'll admit it's not at the top of the priority list. Nevertheless, I thoroughly enjoyed this book on its own, and if you're on the hunt for a fun, light, adventure-filled YA, give this a try!
8. A Good Girl's Guide to Murder
#8 on the list in A Good Girl's Guide to Murder by Holly Jackson! I read this right after One Of Us Is Lying by Karen M. McManus, which was an enormous disappointment to me honestly — it did not at all live up to the hype for me, and felt very flat and simple. Jackson's book, by contrast, delivered all the depth, suspense, and intrigue I was expecting from OOUIL, and I must admit I don't think this book gets nearly the hype or credit it deserves.
This was an excellent YA mystery story about a fun lead character doing a school-project-turned-private-investigation into an unsolved murder in her town. The mystery was written with great skill, building suspense flawlessly and giving compelling clues while avoiding making the ending obvious. The characters were also very well-written, and the relationships, both platonic and romantic, felt genuine. While it again suffers in its ranking a bit for the simplicity of YA that I've simply begun to grow out of, it was an absolute pleasure to read and I couldn't put it down. If you're anything like me and found OOUIL a little lackluster, I highly recommend giving this one a go.
8. The Racial Contract by Charles W. Mills
At the #7 spot on the list is The Racial Contract by Charles W. Mills. This is a book I was actually assigned for a politics class on humanism and human rights theory, and it has immediately become one of my top recommendations on racial justice.
This is technically a political theory book, but don't let that scare you away — it's written in an easy-to-read, accessible way that anyone could understand. The author writes an interpretation of political theory's famous Social Contract theories (coming from the likes of Locke, Hobbes, and Rousseau), looking at it in parallel with what he dubs the "Racial Contract" that underwrites it. He examines global racial issues of slavery, colonization, and imperialism, in ways that are convincing, compelling, and enlightening. I came away from it with a new perspective on the racial underwritings of American and global societies. If you're wanting to continue a racial justice education and exploration, I highly recommend this piece. It's short, brilliant, and eye-opening.
6. A Court of Wings and Ruin by Sarah J. Maas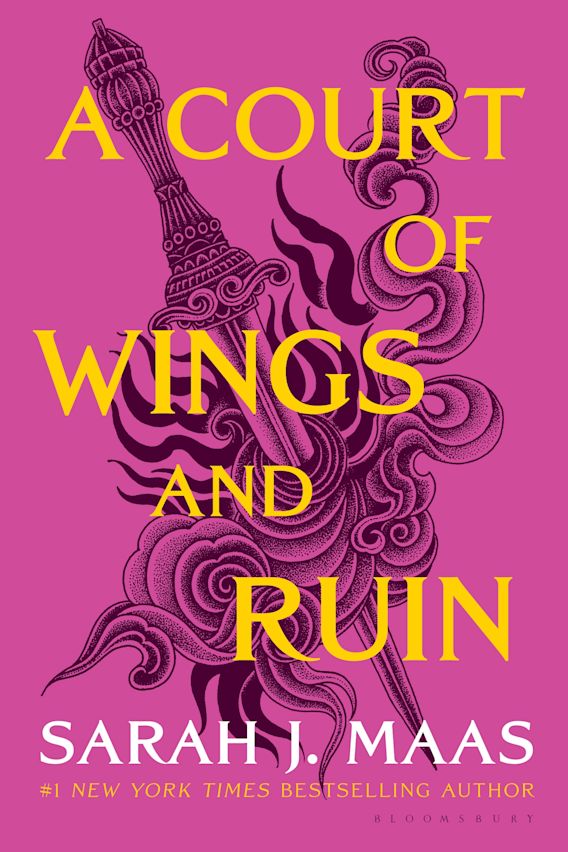 A Court of Wings and Ruin by Sarah J. Maas, the third book in the ACOTAR series, takes the #6 spot. I binged this series at the beginning of the year, rereading ACOTAR in the very end of December 2020 and then the next two in 2021. I adored this series, and this book — a sort of final book in the series, though she did choose to continue it — was a great finale. Though it dragged in the middle a bit for me, and wasn't my favorite of the three (as you'll see), by the end I couldn't put it down. As usual, Maas excelled at world-building and character development, continuing a story set in a captivating world and containing compelling, endearing characters. I really like the way it wrapped up, and don't think I'm interested in reading the rest of the books centered around different characters, so I think this is where I'll be concluding my journey with ACOTAR (though you're welcome to try to convince me otherwise in the comments). If you haven't already read this series I highly recommend it — like the rest of the Internet.
5. The Fire Next Time by James Baldwin
This powerful nonfiction book by literary icon James Baldwin comes in strongly at #5 of my favorite books of 2021. In this brief work first published in 1963 Baldwin presents the reader with two letters: one to his nephew, and one to America. Both are absolutely stunning pieces about the harsh realities of being Black in America, diving into compelling examinations of Black identity, religion, and white supremacism. I implore anyone and everyone to please read this book, as it's at least as relevant today as it was nearly fifty years ago.
4. The Song of Achilles
Coming in at #4 is The Song of Achilles by Madeline Miller. This beautiful piece of fiction is a retelling of the Trojan War and the story of Achilles and Patroclus, weaving a lyrical tale of two boys as they come of age, fall in love, and face unbearable realities of life and war. Miller has a melodic way of writing that, though very occasionally overly-flowery, created a captivating atmosphere that immerses you in the Ancient Greek tragic romance. I was honestly surprised I was so compelled by a story about the Trojan War, but by the end I couldn't get through the last 50 pages without tears streaming down my face the entire way. If you're up for an equally beautiful and heartbreaking piece of fiction, check this one out. I cannot wait to give her other book, Circe, a try, though I admit I'm not sure how it could live up to this masterpiece.
3. A Thousand Splendid Suns by Khaled Hosseini
I'll admit, this book, though sitting at #3, was a strong contender for the number one spot on this list. This absolutely stunning work is a multigenerational story of two women whose lives become intertwined during the decades of Soviet rule, Taliban control, and the American war in Afghanistan. It was simultaneously heart-warming and soul-crushing, one of the most beautiful stories I've ever read. I learned a lot about Afghanistan's history that I was previously woefully ignorant about, and throughly enjoyed this powerful tale about the realities of women's experiences in Afghanistan's turbulent path through the 20th and 21st centuries. The only reason it isn't any higher is because I wasn't entirely pulled in by it, and it took me about three weeks to finish. However, I was indeed tearing up by the time I reached the end. I completely understand why so many people rank this among their favorite books of all time.
2. A Court of Mist and Fury by Sarah J. Maas
Just missing the number one title and sitting at #2 is A Court of Mist and Fury by Sarah J. Maas, the second book in the ACOTAR series. This book was just excellent in every way. When I read the first book in high school I was hesitant to read the second one because I had heard a spoiler about it and was very upset with where I knew the plot was going to go, because it takes quite a turn from the first. And I may have been right, and my sixteen-year-old self wouldn't have been able to bear it. However, now as a grown(ish) woman I absolutely love the 180 turn Maas does from the first book to the second, and this book is leagues above its predecessor.
The romance, of course, is the star of the show here, but the world-building and character development is absolutely not outstaged. The characters we're introduced to are absolutely brilliant and the found-family aspect of it is appealing as always for me. It was completely immersive as a story, and despite it being an absolute beast of a book I think I devoured in in about 2 days — I just couldn't put it down.
And coming in at number one is…
1. Into Thin Air by Jon Krakauer
… Into Thin Air by Jon Krakauer. I'll give the disclaimer that this is the most recent book I read, so it's ranking could possibly be influenced by the recency effect, but I did my best to take that into consideration in my list-making process. I genuinely think it belongs here, because it might be one of the most impactful books I've ever read.
This is a powerful nonfiction narrative by a man who was on Mount Everest and at the center of the disaster that occurred there in 1996, the worst season the mountain has ever seen. I think the knowledge of its complete factuality as I read it is what made this so very powerful. A lot of the time when you're reading books and a person you love dies, or a horrible mistake is made, you can mentally take a step back and remember its just fiction — not here. Every tiny error, poor choice, and ensuing life lost was entirely real, and I could feel it the entire time. I'm immediately ready to reread it, but also can't stand to think about it because of the ache in brings to my chest. Krakauer does an exceptional job telling his story, and the story of those who were in it with him, with brutal honesty and potent poignancy. If you have never read this, pick it up today. It's not too long, and i read it in a day, staying up until 2am because you reach a certain point in the book where you don't have a choice but to see it to the end.
---
And there it is — my top nine books of 2021! I hope you enjoyed a little insight into my favorite reads of the year. If you've read any of these, or if I've convinced you to add any to your 2022 TBR, let me know in the comments! I'd also love to hear what some of y'all's favorite books of the year were.
Until next time — Happy New Year, my darlin's!